Free
Car Valuations Online Singapore.
It's
Fast, Fair & Free.
Sell your car through our network of dealers, our online auction platform or let simply us market your car for you.Less hassles, more money and time for yourself!
Time to scrap your car? Look no further! Let us help you get the best price for your car. More money without you having to do anything.
Get your car insurance the hassles free way using our network of insurers to get the best quotes for you. Easy and simple without much work on your side!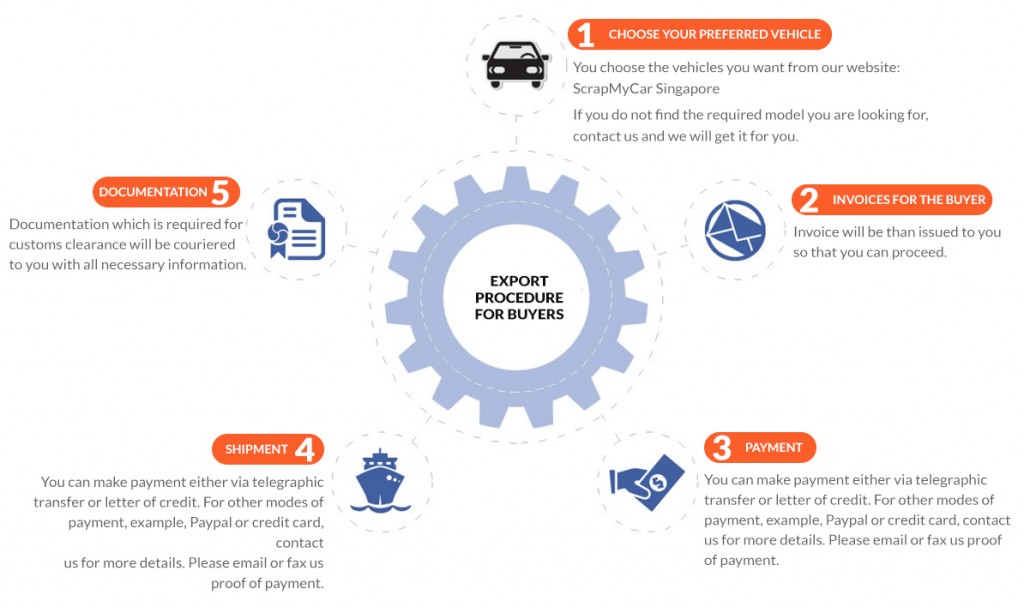 Free Car Valuations Online Singapore
Car Valuation Singapore specialise in helping customers get the best
values out of their cars; be it selling, scraping or exporting their cars.
Over here, we understand many people do not have the necessary skills and knowledge in selling their cars
for the best possible prices. As a result, many car owners failed to recognise the true values of their cars
and as a result lost out on potentially hundreds if not thousands of dollars. This is where we can come in
and help you. To fully understand how we can help you, check out "Our Services" page for more details.
Whether it is buying a car or selling your current one, deciding on the right price can be a hassle. In a field dominated by agents and car dealers who are masters of negotiation, even the most knowledgeable layman can feel hesitant about agreeing on a price set by the dealers.
Car Valuation SG's has defined its mission as 'ensuring the peace of mind of its clients'.
Our firm's value proposition revolves around customer satisfaction. We understand the intrinsic desire of our clients to get the best deal possible and we want to ensure that is what happens.
Every day, we encounter many clients who are wary of car dealers because of their past experiences. Many have previously undervalued their cars and sold them at very low rates, all because of the fact that they did not have the right information about their own car.
Car Valuation SG is here to remove this information asymmetry. We realize that with disproportionate information distribution, the agents of the industry are bound to give a bad deal to the laymen. To counter such elements, Car Valuation SG is here to equip its clients with the right information that will help them decide upon the best price and get the best deal possible.
Cars – A valued investment
Automobiles hold a special place in the heart of most of us. Even if you are not a petrol head, you will surely understand the feeling of warmth one gets while driving your car. Whether you are a housewife driving kids to school, or a banker looking to rush to the next meeting, or a teenager driving around the block with your friends, your car will play an important role in the daily life. It is for this reason that when the time comes to buy a new car, or sell the current one, almost everyone is very careful.
Cars are a long-term investment, and people want to make sure they get it right. However, unfortunately, the value of a used car is still determined through mostly subjective parameters. Thus, it truly depends upon one's knowledge of the car's condition, as well as judgment that determines the price of the car.
Due to this fact, many individuals feel nervous while estimating the value of their car. For many, negotiating a car's price is not their forte. Add to that the fact that they are often up against seasoned agents looking to squeeze out as much a profit as possible, and what you have is a scary scenario for the individual seller.
To alleviate these issues, Car Valuation SG has come up with its own algorithm-driven program to determine the price of the vehicle. This is an unbiased and truly scientific program that can make things exponentially easy for the car seller.
Our desire is to create an environment where the sellers are comfortable with the price they have set for their automobile.
Many Services to choose from
We have not restricted ourselves to just one service. We can also arrange insurance as well as automobile export for our valued clients.
Our aim, as always, is to create maximum ease for our customers. We understand how the plethora of paperwork in insurance and export can be nerve-wracking to a person new to these matters.
That is why we offer our services where we guide our clients every step of the way, facilitating them in every manner possible, so that they can sleep well at night knowing all their automobile-related needs are taken care of.